Line 36:
Line 36:
 

*[[Ike (SSBB)|Ike]]

 

*[[Ike (SSBB)|Ike]]

 

*[[Mr Game & Watch (SSBB)|Mr. Game & Watch]] (Pesticide)

 

*[[Mr Game & Watch (SSBB)|Mr. Game & Watch]] (Pesticide)

 
+
 

=== Energy ===

 

=== Energy ===

 

*[[Lucas (SSBB)|Lucas]]

 

*[[Lucas (SSBB)|Lucas]]
---
Revision as of 21:27, 30 March 2009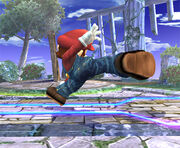 Strong Side, also known as a "Forward Tilt" (or "F-tilt"), is a Strong Attack performed by any character by holding the control stick forward and pressing A while on the ground. This is distinct from a Forward Smash in that the control stick is only tilted, not tapped, when performing this attack. Strong Side attacks generally act as either powerful alternatives to a character's Forward Smash or as quick defensive moves with less lag time than a Smash.
Along with certain Forward Smashes, some Strong Sides can be "angled" up or down to some extent, pointing the hitbox in a diagonal direction instead of totally forward. Most attacks that are angled up are slightly more powerful than if they weren't angled, while some are weaker if angled downwards. Knockback is also affected by angling, with up angles providing more vertical knockback and down angles providing more horizontal knockback. Strong Sides cannot be charged like Smash Attacks.
Characters in Brawl with Strong Sides That Can Be Angled
Kicks/Legs
Punches/Arms
Tail
Weapons
Energy
Characters in Brawl with Strong Sides That Can't Be Angled
Kicks/Legs
Weapons
Miscellaneous
Community content is available under
CC-BY-SA
unless otherwise noted.