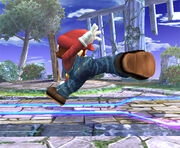 Strong Side, also known as a "Side Tilt" or a "Forward Tilt" (or "F-tilt"), is a Strong Attack performed by any character by holding the control stick forward and pressing A while on the ground. This is distinct from a Forward Smash in that the control stick is only tilted, not tapped, when performing this attack. Strong Side attacks generally act as either powerful alternatives to a character's Forward Smash or as quick defensive moves with less lag time than a Smash.
Along with certain Forward Smashes, some Strong Sides can be "angled" up or down to some extent, pointing the hitbox in a diagonal direction instead of totally forward. Most attacks that are angled up are slightly more powerful than if they weren't angled, while some are weaker if angled downwards. Knockback is also affected by angling, with up angles providing more vertical knockback and down angles providing more horizontal knockback. Strong Sides cannot be charged like Smash Attacks.
The majority of f-tilts are used just for spacing, a majority of them are weak for combos outside of facing a wall. Pikachu, Ness, DK, Kirby, Mario, Luigi, Jigglypuff, Falcon, Samus, and Fox are examples of this. Of the more basic f-tilts, Captain Falcon is usually considered to have the best f-tilt while DK and Ness are considered to have the worst. Samus's is also slightly unique as it is slightly quicker and is more often used than the other "bad" f-tilts due to Samus having few good ground moves. The other f-tilts are as follows:
Yoshi: Suprising knockback for a tilt move. Used to combo into f-airs for gimps (whether they be short hop, djc, jump, or full jump. Also can combo into another f-tilt, other aerials, down b, or up b. Usually considered the overall best f-tilt in Smash 64.
Link: Higher knockback than most f-tilts with good range but heavier ending lag. Mediocre range but overall a good edgeguarding move.
Characters in Brawl with Forward Tilts That Can Be Angled
Kicks/Legs
Punches/Arms
Tail
Weapons
Other
Characters in Brawl with Forward Tilts That Can't Be Angled
Kicks/Legs
Weapons
Miscellaneous