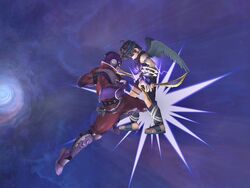 The forward aerial (abbreviated as "fair", "FAir", "f-air" or "AFA") is an aerial attack that is performed in midair by pressing the A Button, and tilting the control stick in the direction the character is facing. Its official term varies between titles, where it is known as a "Front Midair Attack" in Super Smash Bros. Melee, and a "Front Air Attack" in Brawl. Often have odd, usually useful, properties.
List of forward aerials in SSBB:
Mario: Arcs his arm downward, as his fist enlarges. Can spike if the opponent is near to Mario.
Luigi: Karate chops forward. Very quick, though surprisingly weak in knockback.
Peach: Slaps her crown forward. Often considered her best kill move.
Bowser: Slashes forwards. It looks like his Flying Slam (or Koopa Klaw).
Donkey Kong: Swings both hands down, clasped together. Can spike, but is quite slow.
Diddy Kong: Kicks out both legs and spins around. Similar to Mario's back aerial.
Yoshi: Swings his head downward. Can spike.
Wario: Kicks forward. Weak, but good for racking up damage.
Link: Swings sword forward and spins around, then swings it again. Second hit more powerful than first.
Zelda: Kicks forward with a powerful sweet spot on her foot. This move is often called Lightning Kick.
Sheik: Karate chops forward. Similar in power and knockback to Luigi's karate chop, but much less range.
Ganondorf: Arcs his arm downward, similar to Mario's forward aerial. Stronger and more knockback, but does not spike, and has large landing lag.
Toon Link: Swings sword upward. Similar in animation to his back aerial.
Samus: Creates a few small blasts with her arm cannon, slowly moving them downward.
Zero Suit Samus: Two very fast kicks (annoyingly, the second kick is very powerful but the first very weak; however, the first has just enough knockback to move the opponent away from the second kick, and it is hard to time to only hit with the second kick).
Pit: Stabs both swords forward.
Ice Climbers: Swing hammers downward. Nana's can spike.
R.O.B.: Pushes forward in midair.
Kirby: Three fast foot slices forward. When combined with a jump this gives slight horizontal recovery.
Meta Knight: Three very fast sword slashes. The first or first two hits can be ground cancelled, and from this, Meta Knight can lead in to almost any move.
King Dedede: Swings his hammer upwards.
Captain Olimar: Swings a Pikmin.
Fox: Five fast kicks; gives a slightly hovering effect.
Falco: Like Fox's, but doesn't have the hovering effect and has an animation similar to Sonic and Pikachu's Fairs.
Wolf: Slashes forward. Oddly enough, this has upward knockback.
Captain Falcon: The famous Knee of Justice. Very powerful when sweet spotted, but very hard to sweetspot.
Pikachu: Spins forward surrounded by electricity. Multiple hits available. Similar to Sonic and Falco's fairs.
Squirtle: Sticks feet forward. Very similar to Mario's bair.
Ivysaur: Whips forward with vines. Vertical knockback.
Charizard: Covers himself with his wings and breaths fire outwards.
Lucario: Kicks forward, aura appears at the end of the foot. Low damage, but good for combos. You can fit two in one short hop.
Jigglypuff: Kicks forward with both feet, used for the Wall of Pain.
Marth: Swings sword downward. Can fit two in one short hop.
Ike: Swings sword downward.
Ness: Creates small bubbles of PSI energy for multiple hits.
Lucas: Kicks forward with PSI energy at the end of his foot.
Mr. Game and Watch: Swings a box forward. Powerful, but awful landing lag.
Snake: Swings his leg downward. Slight upward boost, can spike.
Sonic: Spins around, like Pikachu and Falco.
Notable characters' forward aerials
Community content is available under
CC-BY-SA
unless otherwise noted.