Excitebike is the brand of eponymous motorcycle appearing in the NES game Excitebike, the game which this assist trophy is taken from. "Excitebike" also appears in the Nintendo 64 game, Excitebike 64 and in the more recent excitebike 3D classics for 3DSeShop. It has made cameo appearances in Super Smash Bros. Melee and Brawl.
Vehicle description
Excitebikes are, for the most part, typical motorcycles that are used in Excitebike racing competitions. As they are used for sport, they have very high specifications and can perform high-profile maneuvers such as launching high in the sky off ramps. Each excitebike is equipped with a turbo-boosting system which allows it to speed up to very high speeds, but puts a strain on the overheating engine if used for extended periods of time. On each racetrack are icons that instantly cool down your engine if you ride over them, though.
In Super Smash Bros. Melee
The Excitebike makes a minor cameo in this game:
As a trophy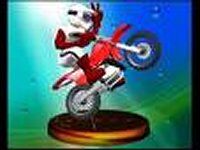 Excitebike features as a collectible trophy, unlocked as one of the 100+ trophies that can be collected randomly during normal play, such as in the Trophy Lottery and throughout the various Single-player Regular Matches. It reads as follows:
Excitebike
This top-of-the-line motocross motorcycle can accelerate like crazy with its turbo, but this also causes the temperature gauge to rise rapidly; if used too often, the bike will overheat. You can cool your hot bike down by running over special icons scattered across the track. The turbo and ramps let you pull insane airs. (Excitebike 10/85)
In Super Smash Bros. Brawl
The Excitebikes have a more tangible role in this game than in the previous one. they appear in their original 2-d form.
Sticker Power Up
Leg Attack +31 Note: This is the best sticker power up for leg attacks.
As an Assist Trophy
Hordes of Excitebike racers is an Assist Trophy helper in Brawl. It appears as multiple Excitebike racers, all in their original sprite forms, who race around the stage, and damage players. All the different original sprites from the game appear to race across the field, along with the main character from the game Excitebike.
Trophy Description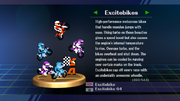 High-performance motocross bikes that handle massive jumps with ease. Using turbo on these beauties gives a speed boost but also causes the engine's internal temperature to rise. Overuse turbo, and the bikes overheat and shut down. The engines can be cooled by running over certain marks on the track. Excitebikes cap off every race with an undeniably awesome wheelie.
Excitebike
1985
In Super Smash Bros. for Wii U/3DS
In Smash Tour
Excitebike appears as an item in Smash Tour. Activating it will double the result of your spin.
Trophy Description
Released in 1985, Excitebike was one of the original launch titles for the NES in North America. A happy return to this racing classic, Excitebike: World Rally, was released in 2009 on the Wii. Racers use a variety of techniques in courses set all over the world. You can even make your own tracks!
NES - Excitebike (10/1985)
Wii - Excitebike: World Rally (11/2009)
Trivia
Excitebike racer was originally planned to be a playable character in Melee and was meant to represent Nintendo's 8-bit era. He was later replaced by the Ice Climbers because the development team couldn't figure out how to make him realistically jump around.
Gallery
Community content is available under
CC-BY-SA
unless otherwise noted.