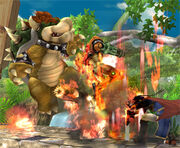 Eruption is Ike's standard Special attack in Super Smash Bros. Brawl. It works by holding down the button to charge the power of the attack and Ike plunging his sword into the ground. Ike is able to charge it to maximum power and deal heavy damage and knockback, whilst damaging himself a little, similar to Roy's Flare Blade. When Ike throws his sword in the ground, it explodes in a burst of flames. Graphically it resembles the animation for the Bolganone spell in Fire Emblem: Path of Radiance. It is unclear how long it takes for Eruption to be fully charged up. However, like most of Ike's moves, it is powerful, and charging is not needed for it to be effective. It shoots fire up into the air, giving it vertical damage as well.
This attack, like Ike's Aether, possesses a moment when Ike is immune to the knockback (but not the damage) of any other attack. When the Special Attack button is released, this moment occurs as Ike swings his sword down to attack.
Also a full charged Eruption can break any character's shield provided that it was not a perfect shield.