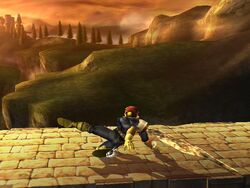 A Strong Down, also known as a Down tilt (abbreviated "d-tilt,") is a Strong Attack performed by any character by holding the control stick lightly down or crouching and pressing A while on the ground. It will instantly hit all surrounding characters, making it useful for spacing. It is also useful for a foe rolling around you. It can also be performed by pressing Z while crouching.
In Super Smash Bros. Brawl, many Strong Down attacks have the ability to make opponents Prat Fall/trip occasionally.
Notable down tilts
Mr. Game & Watch's and Falco's down tilts, well known for their speed and power. Each of their down tilts sends the enemy upwards and can kill as early as 100%.
Marth, Roy, and Yoshi's down tilts, which are low trajectory "pokes" useful for edge-guarding.
Meta Knight's down tilt comes out on frame 3 and has IASA frames on frame 15; this combined with its exceptional range makes it a potent frame trap.
Ness' down tilt is extremely fast, and can rack up damage extremely fast. It has a 100% chance of tripping if sweetspotted.
Marth's down tilt is fast, very easy to sweetspot compared to his other attacks, and can be used to easily reach over an edge.
Mega Man's down tilt moves him horizontally forwards a long distance.
Gallery