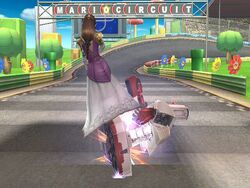 Down throw is a throw performed by pressing down on the control stick after having grabbed the enemy. They are usually more powerful but with less KO potential at small percentages but become good KO potential moves at high percents. These throws are typically used as combo-starters in Melee and tech-chase moves in Brawl by following their DI and predicting an air dodge or jump, and a few, like Sheik's and King Dedede's, can be used to chain throw. Down throw chain throws typically work only on floaty characters, who are generally more difficult to combo than fast-fallers; thus, they are highly valuable to any character. Other notable down throws include Captain Falcon's and Ganondorf's. Toon Link's down throw can set up for a barrage of b-airs followed by a d-air meteor smash. There are no down throws in the original Super Smash Bros.
Trivia
In Melee, Bowser's down throw does no damage to Jigglypuff, but this has changed in Melee's PAL version and Brawl.
See also
Community content is available under
CC-BY-SA
unless otherwise noted.