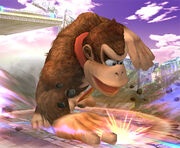 The
Down Special Move
, (also commonly referred to as
Down B
in iterations prior to
Super Smash Bros. Brawl
) is a
special move
performed by pressing the special move button while holding down on the
control stick
(or control pad on the
Wii Remote
). These moves are often gimmick moves, like reflectors or absorbers, or moves with unique properties when used in different ways. For example,
Falcon Kick
sends
Captain Falcon
downwards when used in the air, or
Meta Knight
can teleport and choose to attack if he wishes. They also usually include minimal character movement horizontal or vertically.
List of Down Special Moves
Gallery