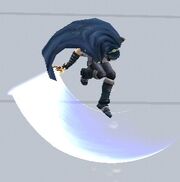 The down aerial (abbreviated as "dair", "DAir", "d-air" or "ADA") is an aerial attack that is performed in midair by pressing the A Button, and tilting the control stick downwards. Its official term varies between titles, where it is known as a "Down Midair Attack" in Super Smash Bros. Melee, and a "Down Air Attack" in Brawl. Many of these moves are Meteor smashes.
Characters' Dairs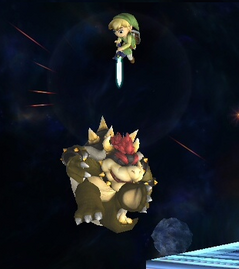 Notable characters' down aerials
Ganondorf's down aerial in Brawl can be auto canceled in short hops and KO below 100% who connects on the ground while in an aerial opponent making it a great approach move and as a spike it always spikes if connects with enough power to OHKO an opponent in most cases.
Marth's down aerial, possibly the most feared with its speed and range in Melee and Brawl.
Notes
According to the SSBB Prima Official Game Guide, Wolf's Down Aerial Attack is a "Dair" spike, and is indeed similar to Falco's "Dair" spike.