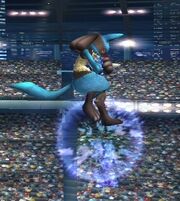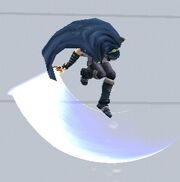 Down Air Attack (sometimes abbreviated as "down air", "dair", "DAir", "ADA", and "down aerial") is an aerial attack that is performed in midair by pressing the A Button, and tilting the control stick downwards. Its official term varies between titles, where it is known as a "Down Midair Attack" in Super Smash Bros. Melee, and a "Down Air Attack" in Brawl. Many of these moves are Meteor Smashes.
Down Air Attacks in Super Smash Bros. either are one of three things: drills, spikes, or just sideways knockback-oriented moves. Due to most of them being drills, they are some of the few moves that can be easily DI'd out of in an otherwise low DI game.
Notable Fighters Down Air Attacks
Gallery
Community content is available under
CC-BY-SA
unless otherwise noted.