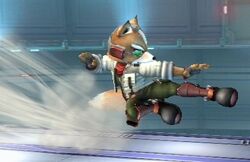 Dash attack is an attack performed by pressing the attack button while dashing, (running, in other words). To do a dash attack immediately after starting a dash, press the c-stick down instead.
Dash attacks typically use the momentum behind the dash to pull off some sort of attack, like a sliding kick. Most dash attacks come out quickly, but have noticeable ending lag and are predictable, making them very easily shield-grabbed. In Brawl, certain Dash attacks can be interrupted by performing an Up Smash, which is known as Dash Attack Canceling. Often, a combo is used with the low, more combo based knockback of the dash attack, leading up to the more powerful KO move Up Smash.
List of Dash Attacks in Super Smash Bros. Ultimate
Mario: Slides forwards along the ground with his foot extended. 9.6%
Luigi: Flails his arms wildly.
Donkey Kong: Rolls forwards to hit with his whole body. 14.4%
Diddy Kong: Does a cartwheel, hitting with all of his limbs. 8.4%
Link: Leaps forwards and cleaves his sword downwards. 14.4%
Young Link: Slashes his sword forwards. 13.2%
Toon Link: Slashes his sword forwards. 9.8%
Ness: Pushes forth with PSI energy from both hands.
Lucas: Slams forwards with PSI energy from his hand.
Piranha Plant: TBA
Joker: TBA
Gallery
Trivia
Kirby is the only character whose Dash Attack has been changed in all of the Smash games, with the exception of Smash 4.
Community content is available under
CC-BY-SA
unless otherwise noted.