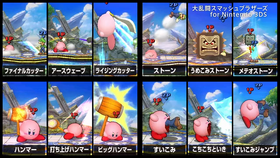 Custom Moves are a feature in Super Smash Bros. for Nintendo 3DS and Wii U which allow the player to customize each character's special moves. Almost all characters initially only have one of each regular special move available, with the other two variations of each move having to be acquired from finding Custom Parts.
The exceptions are Palutena and the Mii Fighters, which their custom moves are already unlocked. Players can obtain Custom Moves by completing Classic Mode, All-Star Mode, Smash Run, Smash Tour, Master and Crazy Orders. amiibo also have a set of Custom Moves that can be used.
The only characters that do not have custom moves are Downloadable Characters, although only Mewtwo was planned to have them; it is unknown why they were cut., though it was most likely due to time constraints, as creating new Custom Moves would delay the release of the character.
Obtaining all Custom Moves is one of the 140 Challenges in Super Smash Bros for Wii U. Obtaining all Custom Moves is also one of the 105 challenges the Nintendo 3DS version as well. Both challenges can be completed by using a Golden Hammer.
Custom Moves make a return in Super Smash Bros. Ultimate; however, they are now exclusive to the Mii Fighters.
List of Custom Moves
With the exception of Palutena and the Mii Fighters (who have all of them available at the start) and Downloadable characters (which have only their default special moves), each character can obtain 8 Custom Moves, for a total of 376 collectible Custom Moves.

In Competitive Play
Custom moves were initially met with some hype regarding new possible strategies and movesets. However, they never became a significant part of competitive play. While efforts have been made to include custom moves legally in tournaments, two debilitating flaws kept this from happening.
Firstly, custom moves are incredibly tedious to obtain. Regardless of whether it is on the 3DS or Wii U version, the amount of time needed to gain all custom moves for use is simply not practical to even bother with. Secondly, the custom moves themselves are notoriously unbalanced. Some of them are almost completely useless while others are borderline broken (a notable example is Villager's Timber Counter).
Overall, while a decent effort to deepen the metagame of Smash Bros, custom moves are unarguably one of the most unbalanced additions to any Smash Bros. game ever. Currently, custom moves are unanimously banned at major tournaments, although some smaller tournaments may allow them in side events.
Trivia
Characters were originally intended to have three custom moves, as shown in slides from the game's early development that shows Mario launching two Fireballs at once; it is unknown why this was reduced to two.
DLC characters don't have custom moves. Mewtwo was planned to have them at first, but this was scrapped. It's unknown why they were never implemented.
The Mii Fighters and Palutena are the only characters who have all their custom specials as soon as you start the game.