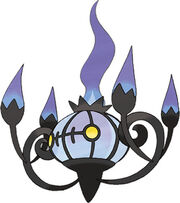 Chandelure (シャンデラ, Shandera) is a Pokémon who appears in Super Smash Bros. 3DS/Wii U as a Smash Run enemy.
In Super Smash Bros. 3DS/Wii U
Chandelure appears as an enemy in Smash Run. They attack players by launching three purple orbs at them or a fire tornado at the player. If they are attacked with any fire or explosive attacks (e.g. Ganondorf's Side Smash), it will increase the strength of their attacks.
Trophy Description
A Ghost/Fire-type Pokémon that burns its opponents' spirits instead of their bodies.When it attacks, it does so in bursts of three, using moves like Will-O-Wisp and Fire Spin. Try not to use fire-based attacks or items on it, as it will only absorb them and use them to strengthen itself.
Origins
Chandelure is a Ghost/Fire type Pokémon that first appeared in Pokémon Black & White Versions as Pokémon #609 in the National Pokedex. It is #115 in Pokémon Black & White, #192 in Pokémon Black 2 & White 2, and #067 in the Mountain Kalos section of the X & Y Pokedex. It is the final evolution of Litwick and evolves from Lampent with a Dusk Stone. Its ability to absorb fire-based projectiles is based on its Ability Flash Fire, which when struck with a Fire-type move, renders it completely ineffective while boosting the power of its own Fire-type moves.
Gallery
External links
Trivia
Villager can Pocket Chandelure's Fire Spin and Will o' Wisp attacks. However, using them on Chandelure is pointless as it will only strengthen Chandelure.
Lucas, Ness, and Mr. Game and Watch can absorb the Fire Spin and Will o' Wisp attacks.
Community content is available under
CC-BY-SA
unless otherwise noted.