Cappy (キャッピー) is a major supporting character in Super Mario Odyssey, serving as Mario's companion.
A piece of Headgear for the Mii Fighters modeled after him is available in Super Smash Bros. Ultimate, where he also makes a cameo in Mario's Taunts.
Character Description
Cappy is quite literally a living hat; specifically, he is a Bonnetor from the Cap Kingdom. Cappy is a brave and heroic young cap who will never back down from a fight and is always ready to help anyone and everyone. He joins Mario in his new journey to save Princess Peach, as Bowser not only has kidnapped her but Cappy's sister Tiara as well; Cappy becomes Mario's new hat after Bowser destroys his original. The two travel the world in pursuit of Bowser in their airship, the Odyssey.
Cappy serves as the main gameplay element of Super Mario Odyssey, with Mario being able to throw him as a weapon and jump on his head as a pseudo-springboard. The main gimmick Cappy provides is the ability to capture enemies and certain objects, allowing Mario to directly control them to solve puzzles, proceed through levels, and find more Power Moons. Cappy is also capable of interacting with the environment, being able to do things such as pull switches and levers and clear a path through poison as well as collect coins. He also acts as the player guide of the game, explaining several mechanics and providing tips. As Cappy is a living hat, he can also alter his appearance to Mario's choosing based on hats he has purchased from the Crazy Cap Store.
Aesthetic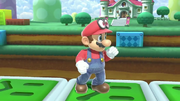 Cappy has a random chance of briefly revealing himself whenever Mario performs Super Jump Punch, usually occurring when the normal coins change to the Regional Coins from the Metro Kingdom from Super Mario Odyssey. Cappy also appears in Mario's Side Taunt, where Mario throws him in a circle.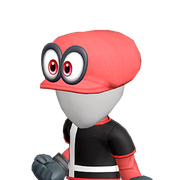 Headgear for the Mii Fighters modeled after Cappy (in Mario's hat form) is available in the base game. It is a Challenge reward, which is unlocked after using a Classic Ticket 3 times in Classic Mode.

A Spirit of Cappy is available in the base game. It is a Support Spirit under the Advanced class. His Spirit Battle uses an invisible Mario, and only Boomerangs will spawn during the match (as Cappy is thrown similarly to a boomerang). The stage is the Hazard-less form of Rainbow Cruise, as it is an airship much like the Odyssey, and the song that plays is "Jump Up, Super Star!" - the theme song of Super Mario Odyssey.
It can also be summoned by using the Spirit Cores of Ezlo and Boo Mario.
| No. | Spirit | Artwork Origin | Type | Rating | Effect | Cost |
| --- | --- | --- | --- | --- | --- | --- |
| 78 | | Super Mario Odyssey | | ★★ | Strong Throw | 1 |