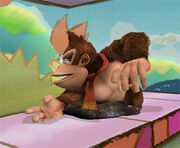 Buried is a state that characters enter under various circumstances, including being hit by Donkey Kong's Headbutt move and being affected by a Pitfall. In this state, controls are disabled until it wears off. Characters can only be buried if already touching the ground. All these moves (except Togepi's) are meteor smashes if the foe is in the air.
Causes of Burying
Community content is available under
CC-BY-SA
unless otherwise noted.