Barbara the Bat (バーバラ・バット) is the mascot and player guide of the Daigasso! Band Brothers series.
She joined Super Smash Bros. Brawl as a summonable Assist Trophy. A piece of Headgear for the Mii Fighters modeled after her is also available in both Super Smash Bros. for Nintendo 3DS and Wii U and Super Smash Bros. Ultimate.
Character Description
Barbara is the manager and owner of GB Music, which boasts itself as the only music store in town thats open on midnight (later converted into a talent agency in Jam with the Band before traveling in a semi-trailer truck in Daigasso! Brand Brothers P). Her store is a place for musicians to perform covers of well known songs - which range from J-pop tracks, western pop music, songs from other Nintendo games, or anime theme songs - as well as letting players create their own compositions. She serves as the player's guide in the series by showcasing the gameplay as well as informing them of what song is next to perform. An avid musician herself, she can also share trivia regarding the instruments used in the game's songs. Barbara possessess a somewhat brash and arrogant personality, often treating the player as a whipping boy to do daily performances and even going as far as calling the player one of her "minions". Also featured alongside her exploits is her younger brother, Tingtin.
Outside of the Daigasso! Band Brothers series, Barbara also appears in Master of Illusion as the owner of a magic shop. She also cameos as an instructor in English Training: Have Fun Improving Your Skills!, as well as a free DLC Mystery Mushroom costume in Super Mario Maker alongside Yu Ayasaki from Daigasso! Band Brothers P.
Barbara appears as a summonable Assist Trophy. She will stand in the background after being summoned and immediately performs a wailing solo on her electric guitar for a few seconds before disappearing; her solo will create a series of shockwaves around her with wide range that damage any nearby opponents in similar fashion to Donkey Kong's Final Smash, Konga Beat. As she is in the background, she cannot be interacted with.
Barbara must be unlocked in order to have a chance of her showing up in a match. To unlock her, players must collect 25 CDs.
Trophy Description
The manager of the music store GB Music in Waruwaru Town--her real name is Barbara the Bat. She leads the player through the game, showing her arrogant attitude as she cracks the whip at others but pampers herself. Her little brother's name is Tingtin the Bat. By the way, the "GB" in the name of her store stands for "Great Barbara", NOT "Game Boy."
DS - Daigasso! Band Brothers (Japan Only)
DS - Master of Illusion
Headgear for the Mii Fighters based on Barbara's hair is available in the base game. It can be acquired at random with a Custom Part.
Trophy Description
Barbara's Trophy is only available in the Nintendo 3DS version.
As the manager of a slightly dubious talent agency, Barbara's always looking for people who want to join a band. She'll even teach you to play--whether you ask her or not. It's best to let her think she's taking advantage of you, even if she really isn't. Her hidden theme music really illustrates the contrast of darkness and light in her soul...or something.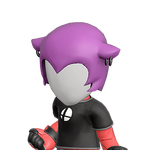 The Headgear for Mii Fighters based on Barbara's hair returns for Ultimate, once again as part of the base game. It can be purchased from the store for 900G.

A Spirit of Barbara is available in the base game. It is a Primary Grab Spirit under the Ace class. No Spirit Battle accompanies it, as it can only be summoned by using the Spirit Cores of Rogue the Bat, Prince Saruno, and any other Primary Grab Spirit.
| No. | Spirit | Artwork Origin | Type | Rating | Effect | Slots |
| --- | --- | --- | --- | --- | --- | --- |
| 1211 | | Jam with the Band | | ★★★ | N/A | 3 |
Trivia
If Barbara is summoned while the game's speed is set to x1.5, she will disappear before the music has a chance to finish.