Backward Throw (reffered to as "back throw") is a throw performed by pressing backwards on the control stick after having grabbed the enemy. These throws rarely lead to combos but often have decent knockback, often more than forward throws and thus can be used to throw enemies off the edge to be edge-guarded. In Super Smash Bros., all back throws have very high knockback and are viable KO moves. As of Super Smash Bros. Ultimate, Incineroar has the earliest killing back throw, though it is debaitable if it is stronger than those of Dr. Mario or Ness due to how much easier it is to DI against it.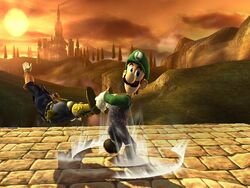 In Super Smash Bros., the best backward throws, similar to forward throws are the characters with a good jab set up and virtually anyone who isn't a tether/extended reach grab. The majority of back throws have incredibly high knockback, being used next to ledges for gimp opportunities outside of Kirby who has an overall better forward throw.
Under Construction
Notable back throws include:
See also
Community content is available under
CC-BY-SA
unless otherwise noted.