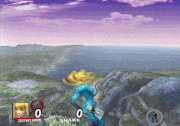 Auto-canceling is the act of landing during the beginning or ending frames of an aerial attack, thereby circumventing the landing lag that would have occurred had the character instead landed during the middle of that attack's animation.
Auto-canceling an attack produces no more landing lag than a regular landing from an ordinary jump (of which the landing lag tends to be around 4-6 frames, a very short amount of time), whereas landing during the middle of an aerial attack almost always results in a significant delay before the character can act (raise a shield, jump, dodge, etc.) again. Most aerial attacks can be auto-cancelled during both the first few frames and the last few frames of the attack's animation; however, some attacks cannot be auto-cancelled at the start, at the end, or even at all. Each individual aerial attack for every character has a specific auto-cancelling window (or lack thereof) that must be memorized and practiced.
Auto-canceling can be very beneficial to players using characters with laggy aerial attacks, as this can reduce the amount of landing lag produced, and create more time for the character to act, potentially avoiding being punished during the move's landing lag. Precise auto-canceling of aerials is also frequently needed for performing followups and combos, so as to leave less time for the opponent to react and escape.
In Super Smash Bros. and Super Smash Bros. Melee, though auto-cancelling is useful, it generally has no large impact on gameplay, since L-cancelling is effective on its own in reducing landing lag. Super Smash Bros. Brawl removed L-cancelling. However, aerial attacks in that game generally have more lenient auto-cancel windows to partially compensate. In Super Smash Bros. for Nintendo 3DS and Wii U, L-cancelling continues to be absent, and aerials overall have increased landing lag and auto-cancel much later, hindering aerial approaches and enforcing a heavier reliance on grounded combat.
Notable Examples
The following characters' respective moves auto-cancel in a short-hop.
Melee
Brawl
Smash for 3DS/Wii U
Trivia
Community content is available under
CC-BY-SA
unless otherwise noted.